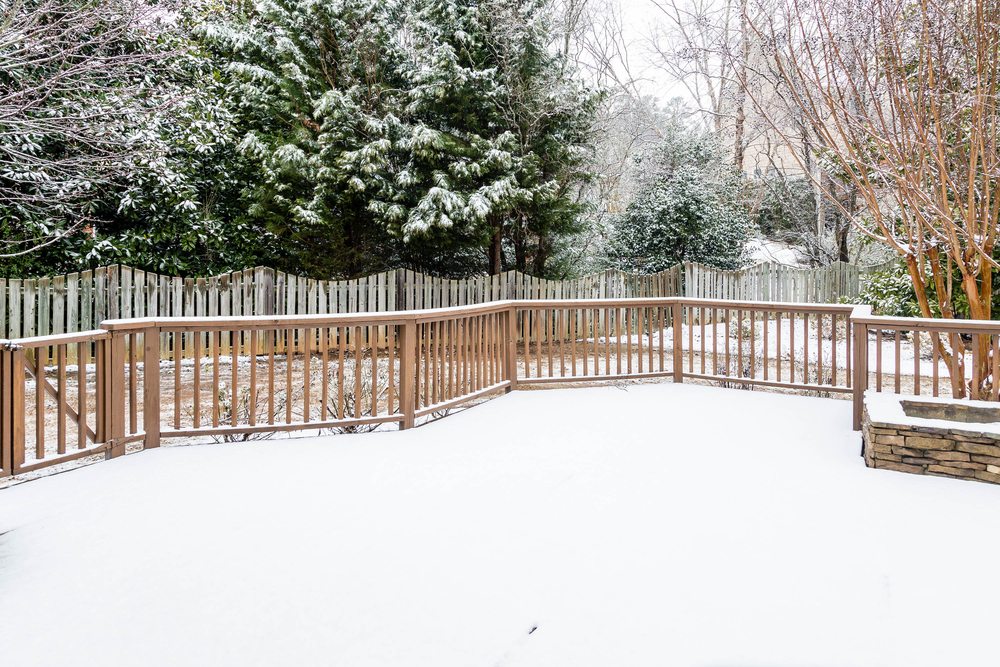 Do you have a wood fence installed across the premises of your property? Wish to improve the overall lifespan of wood fences in your residential or commercial property? Winter weather in several parts of Austin and surrounding areas can be tough on a wide array of materials. Extended months of winter weather and ongoing stress can lead to potential damage -especially to the wood fence around your home.
Whether you have red wood, cedar wood, or some other fence in your premises, it will only last longer when you take proper precautions and care. Let us help you with the same!
Also Read: Cedar vs. Redwood – Which Wood Do You Choose for Your Fence?
Top Ways to Take Care of Wood Fence During Winter
Storms blow across Austin and other parts of the country all winter long. It is no secret that moisture and wood fences do not get along. When your wood fence gets exposed to moisture on a constant basis, it tends to deteriorate quickly. It is one of the most common wood fencing problems that homeowners across the country tend to face.
Here are some tips to take care of wood fence during the winter season:
Cut the Overhanging Tree Limbs
Snow, rain, strong winds, and freezing conditions might cause tree branches to break down and debris to fall. It is recommended to trim overhanging branches to prevent them from crashing down on the fence during strong winds or a storm. Even some minor grazing by limbs and branches has the potential to bring across a scratch on the fence. You can minimize the risks by pruning bushes and trees ahead of the winter season. Once a storm crosses, get rid of damaged limbs from the tree to prevent them from falling.
Remove the Pile of Leaves Around the Fence
Fall leaves might appear immensely beautiful. However, this does not imply that you should allow them to pile up in the backyard. These piles of leaves can damage your wood fencing in several ways you might not expect.
Leaves can eventually build up around the bottom of the privacy wooden fence. While the wood of the fence is protected effectively from daily wear & tear, excessive moisture along the fence posts can damage or warp the wood over time. This damage might damage the overall aesthetics -like changing the color to light Gray instead of the normal brown color.
Also Read: How to Clean and Maintain a Wood Fence.
Avoid Attaching Anything to the Wooden Fence
Fences are only meant to offer additional protection to your yard or home exteriors. Attaching anything to the fencing area can not only damage the overall exteriors, but also increase the chances of damaging the fence quality.
Keep your fence clear of additional materials like twigs, pine needles, and so more. Do not allow debris or extra items to accumulate near the fence area. Wet material that will wedge between fence boards or on top of the rails will promote rot.
Complete Fence Repair Immediately If Any
It is a good idea to keep inspecting your wood fence regularly. Take in-depth inspection at your wooden fence after periods of heavy wind or prolonged rains. This will offer you a chance to fix or repair smaller problems before they would eventually become major repairs.
In terms of fence repairs, broken boards should be replaced right away. Problems with fencing nails and other types of fasteners should also be repaired as soon as they come up. For instance, if plants are creeping up against a wooden fence, ensure that the wet foliage should not touch the fence.
With respect to fence repairs, it is also recommended to check knotholes. They might go ahead with expanding or reacting to cold and moist weather differently in comparison to the remaining board. Holes and other types of weak spots in the fence will create ample opportunities for insects and pests to take hold.
Clean Your Wooden Fence When Winter Ends
Keeping your fence is crucial during the cold weather. The moisture due to inclement weather on the wooden material can lead to the growth & development of algae. Formation of algae is not only dangerous for your wooden fence, but it can also spread speedily on the yard and walkway when not eliminated at the right time.
One simple way to ensure that a wooden fence is not attacked by algae is by power-washing it or using a scrub brush to wash the bag by hand with soft bleach solution and warm water. For ensuring a long-term solution towards keeping your wood dry, you can consider painting the wood with some waterproof solution. It will help in protecting the wood from snow, moisture, and rain.
Also Read: How to Clean a Wood Fence.
Use Top-quality Wood Stains
Stain helps in preserving the color of the unpainted wood fence while also protecting against moisture. For instance, cedar tends to be naturally-resistant to moisture-centric damage like rot. However, it will last longer when wood fences are stained. A new application of wood fence stain will offer additional protection. Wet & cold weather conditions are not the right time to stain the fence. If you wish to re-apply the stain, do it beforehand.
Also Read: Should I Paint or Stain Wood Fence?
Get Rid of Mold
When wood fence or any other fencing material is concerned, mold turns out to be the ultimate murderer. Excess moisture on the fence can allow the fungus to grow rapidly on the wooden surface. When mold patches start growing on the fence, it will also start invading deeper into the wood material. Eventually, it will make the wood fence rot. You can consider using an acidic mixture of white vinegar & water to clean mold off any fence type.
Also Read: How to Care of Your Redwood Fence?
Conclusion
Looking for professional services to install top-quality wood fences on your property? Call us now and get relevant help with professional wooden fence installation.