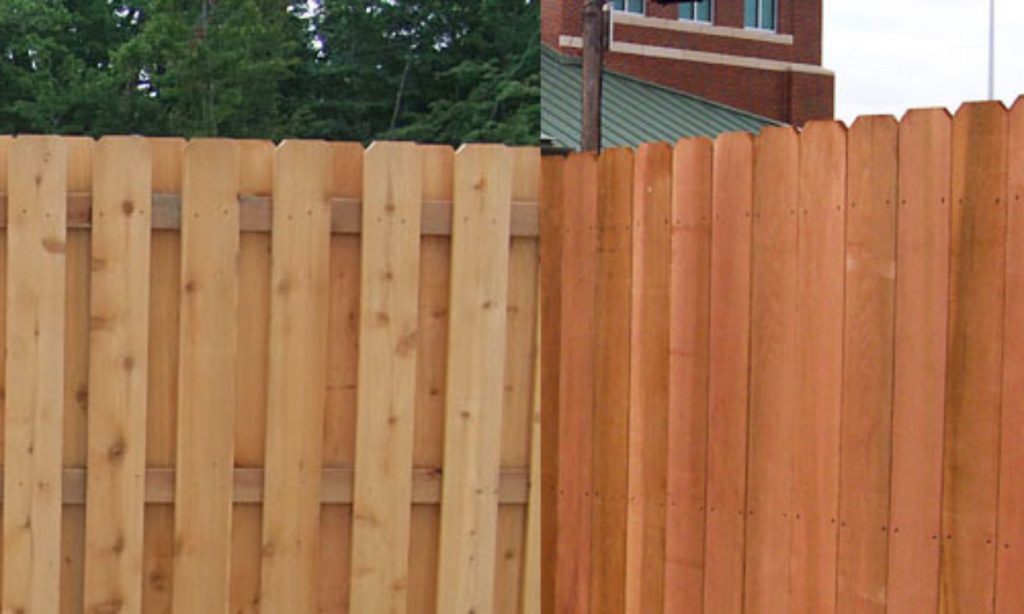 In this article, we're going to go head to head with two popular wood fence choices – redwood vs. cedar. We'll see what each fence material has to offer and hopefully help you choose a material for your next wood fence. Of course, if the results are inconclusive then it's a win-win. You'll have two good choices to make.
Color
Western red cedar, the cedar we are going to focus on in this article, unless stained a different color, naturally has a yellow undertone. Redwood, on the other hand, has – big shocker here – a more reddish-brown hue. Both are beautiful but if you plan to use a tinted stain, you might want to go with cedar. It costs less and has a lighter natural color making it easier to stain.
Eco-Friendliness of Redwood vs Cedar
Both Redwood and Cedar are very similar when it comes to being environmentally friendly. Both have products certified by the Forest Stewardship Council. Both are 100% natural products. Both say they are more environmentally-friendly than composite brands. Redwood is primarily harvested in Northern California and western red cedar comes from Canada.  This makes their environmental requirements almost identical.
Sustainability
We see that cedar and redwood are both eco-friendly, but can they grow new trees as fast as they harvest old ones? It takes 50+ years for cedar or redwood seedlings to be harvestable. According to a cedar growth study, second growth cedar is just now becoming available for harvesting. It's producing a high quality product. However, redwood says they harvest less than the annual growth rate so that means they're growing more redwood than they're harvesting. Cedar doesn't make that claim.
Durability of Redwood Fence vs Cedar Fence
Redwood Fencing is measurably stronger than cedar – by about 23%. Redwood is therefore more durable than cedar.
Maintenance
Cedar and redwood have nearly identical tips for cleaning, color restoration and finishing. With either type of wood, you'll just need soap and water to clean most dirt and stains. Mildew can be taken care of with a little bit of bleach and water. Redwood and cedar both contain tannin – it gives the wood its color and also keeps insects away naturally. Redwood has more tannin than cedar so it may be a little bit better in this category.
Cost Comparison
In Texas, Redwood Fence is about 15% more expensive than cedar.  This is why most fence companies in Texas use cedar fence pickets.
Well, there you have it – the tale of the tape. While cedar vs. redwood seems to be a battle for the ages, there are some areas where cedar takes the cake. We're not telling you which material to choose, but, in Central Texas, we can tell you that cedar is more popular. Regardless, when you're ready to build your redwood or cedar fence, B.C. Fence will be there for you. Give us a call at 512-284-8716.