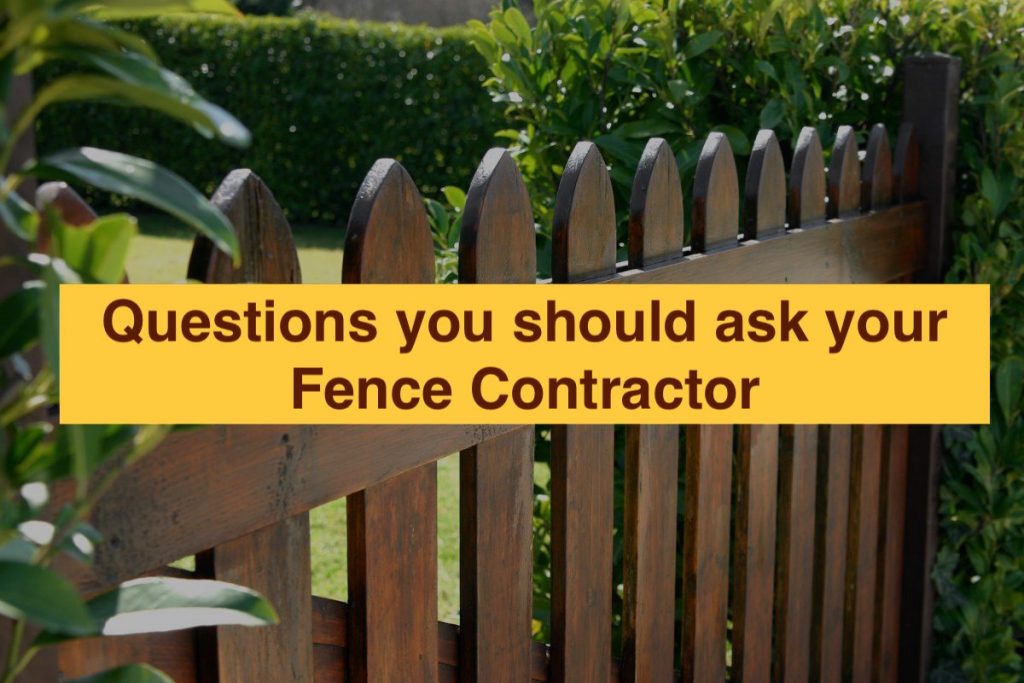 Tired of wild animals sneaking into your backyard or neighbors taking peeks into your house? If so, you can think of getting a fence around your property. A fence helps in delivering improved security, safety, and privacy throughout. Moreover, it also helps in adding value to your home. To ensure that you have a good fence around your home, it is recommended to hire a trustworthy fence contractor in your area.
How can you evaluate if a fence company or contractor is reliable? You can ask some important questions out of the fence contractor to check upon the reliability and credibility of services offered. It is always a great idea to get into the question/answer session out of two or three contractors in your area. This will help you get an estimate of the right contractors along with the pros & cons of their service range.
Some important questions to ask the fencing contractor in your area are:
#How Much Experience Do You Have in the Industry?
When you are getting involved in the process of hiring a reputed fence contractor, you should aim at digging deeper to obtain an idea of the overall business history and experience levels of the potential contractor. Firstly, it is recommended to conduct internet research for the company or agency that they work for, the owner details, and the employees of the company.
You should look for suspicious signs or potential red flags in the product range or services of the company. Then, to understand the experience level and quality of services, you can also go through customer reviews in detail. Ideally, you would want to hire a fence company having a positive track record along with impressive professional experience of minimum 5 years -unless you are aware of the contractor personally.
#Can You Show Us Some of Your Previous Work or Examples of Work?
Most reliable fence contractors or agencies offer references or examples of work as a part of their professional portfolio or proposal. Some of the best contractors even include pictures of previous fencing installations along with contact information of former clients. These clients will willingly testify directly to the overall quality of work of the company.
You should not be hesitant to ask the contractor to provide access to these resources if you cannot find them anywhere else. If you have not done so already, then ensure that you are following up by checking reviews and ratings online.
#Do You have Complete Legal Documents and Licenses?
When you are making payments for the fence services to an organization, rather than an individual, it will require some level of assurance that you remain on the books somewhere. This allows you to ensure protection against duplicate charges and disputes. For instance, if a fence company has proper business license, but asks for individual checks, the company might not be reporting the income for taxes. It is not a sign of an honest service provider.
When you allow someone who is unlicensed to start the fencing work, you will essentially put yourself at risk. It is also recommended to stay away from paying in cash. It is mostly requested by doubtful and questionable contractors because it becomes impossible to track such payments. Credit cards and checks are usually regarded as the safest options for any consumer out there.
#How are You Different from Others?
Most fence contractors tend to differentiate from each other with the help of types of fences offered and special warranties, if any. Moreover, they can also offer add-on services like post-installation maintenance and so more.
When you are selecting a reliable fence contractor in your area, you can look into additional perks offered that set the contractor distinct from others. This helps you choose the best one in the market.
#Are You Insured?
As far as liability is concerned, you need to ensure that the fence contractor you choose has general liability along with workers' compensation insurance. The provision of general liability insurance will offer protection to your property in case the employees or contractors cause any damage.
The insurance provided by the contractor should be responsible for covering the costs as well. On the other hand, workers' compensation insurance will offer protection in case an employee gets injured during the installation process while working on your property.
#What Kind of Warranty Do You Offer?
Before signing up a contract with any local fencing company, it is recommended to ask about the warranty offered by the company. Analyze when payment is needed. Also check whether or not the company will accept full payments once the project is complete.
Before the work starts, it is recommended to get clear with the payment terms & conditions. You can get the respective terms in proper writing. Most fencing contractors offer access to a typical 2-5 years of warranty for fence installation.
#What is the Expected Timeframe to Complete the Job?
Before your project starts, ensure that you have a proper understanding of the entire timeline. How long will the fence project take? When can the contractors get started? Ensure that the contract mentions start and end dates.
#Which Type of Material Do You Have for Fence?
Find out about the types of fences the contractor has to offer before you start the fence installation project. You can walk through different types of fences and materials on the website of the service provider. Depending on your needs and preferences, you can choose the desired one.
#Do You Offer Any Financing?
How will you be paying for the fence project? Some contractors go ahead with offering relevant financing to help you adjust the price according to your budget. It is important to ensure that you have a well-written contract specifying the payment terms & conditions before starting the project.
Also Read: What Do I Need to Know When I Hire a Fence Contractor?
Conclusion
Most reliable fence contractors with ample experience will not have problems in answering these vital questions. Most of them will have proper information as well as documents to support your queries.