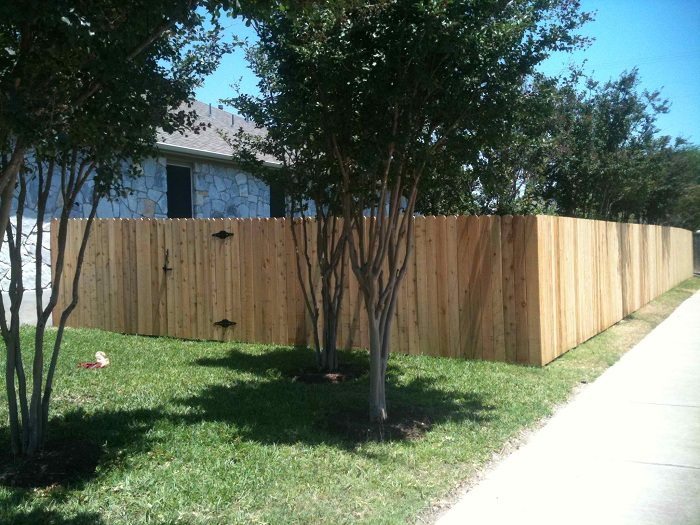 How do you choose the fence material for your yard? Well, the most common materials for fences are: chain link, wood, vinyl and metal. Chain link and wood are usually the most popular because of their low cost. Ornamental fences made from metals are considered 'high-end'. Vinyl can cost about the same as a metal ornamental fence but is generally perceived as cheaper because it is made from plastic rather than metal. Read on for more information.
Wooden Fences
Now, wooden fences are classic options for homes. They give a warm, natural look that makes your landscape more inviting. Wood is also easy to customize. You can paint or stain it to match your home's exterior and the rest of your landscape. It's available in a wide variety of styles so there's bound to be an option that fits your style and needs. If you want privacy, then opt for a solid fence. Picket fences and split-rail fence can add rustic style or charm. Wood fences can rot, warp or suffer insect damage over time. Get a species of wood that can withstand the elements like redwood, cedar, or pressure-treated pine.
Read our article: Cedar vs. Redwood – Which Wood Type to Choose for Your Fence
Vinyl Fences
Vinyl fences make it so you needn't worry about maintenance. Unlike wood, it will never require a repainting. It's resistant to insects, decay and warping. You can clean a vinyl fence with just a garden hose. It's available in a variety of styles including privacy, post and rail, picket and pool-safety. Colors are limited for vinyl fences. Colored fences fade over time. It also costs more than wooden options so if you're on a budget, you might be better off with wood.
Also Read: Vinyl Fences versus Wood Fences.
Metal Fences
Metal makes a statement. Wrought iron provides a highly decorative look that makes your landscape stand out. It's usually very formal. It's best to pair with traditional architecture. It's extremely durable. The fences are hard to climb or knock down. It provides effective security. Metal offers little privacy since it features an open design. Wrought iron fences require a considerable maintenance because it can rust and carries a high price tag. An aluminum fence might be a better option if you're on a budget because it isn't as costly.
Chain-Link Fences
Chain-link fences are an affordable option for your home. While chain link can have an industrial look, choosing a style that features green or black plastic coating over the mesh helps the fence disappear into the landscape for a more subtle look around your property. Chain-link does feature an open design that doesn't provide any privacy, but you can purchase vertical slats to weave into the mesh to block your yard from view. Chain-link fences can rust over time, so it does require some maintenance to preserve its appearance.
If you still have questions about fence materials, give us a call at B.C. Fence. Our fencing company is happy to help you determine what will work best with your yard, your needs and your budget.