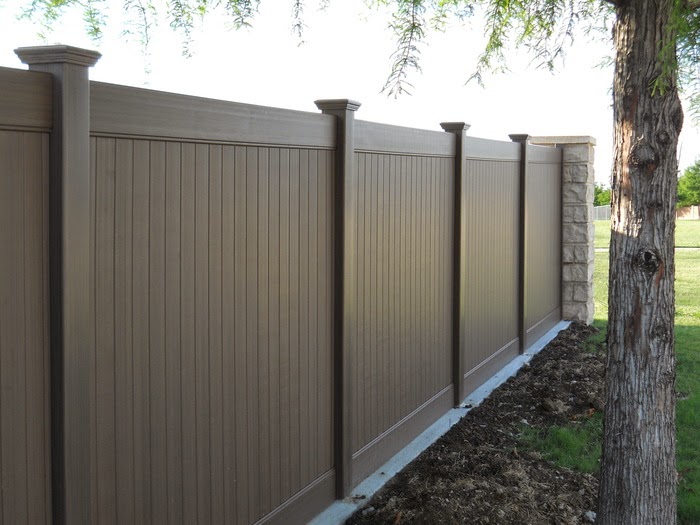 Many people can't decide whether to get a Wood Fence or a vinyl fence. We offer a brief comparison here that may help you make your choice. We discuss price, appearance, design, durability, and maintenance.
Vinyl Fence Cost vs Wood
Vinyl vs wood fence cost, wood is usually cheaper than vinyl. However, fence installation costs are largely comparable. When you think about cost, you should factor in maintenance costs. Wood fences require more maintenance in repainting or so forth. These maintenances are part of the total cost of ownership. If you look at it more closely, vinyl, over time, will be closer in cost with wood because it requires little to no maintenance.
Wood Vinyl Fence – Appearance
Wood has a natural, traditional appearance that can't be duplicated by other materials. Wood's organic texture and natural variations make every wood fence unique though it is cedar wood, red wood or any other wood. Painting and staining provides a variety of design options and color choices. Vinyl is available in a wide variety of designs and textures as well as colors. Vinyl provides uniformity in appearance that wood just can't.
Design
Wood fences can be built in just about any type. The materials are shaped with simple tools and can be built to follow even complex landscaping contours. This will allow you to have a maximum flexibility of design. Vinyl, however, can only be built in certain designs. However, vinyl's quality posts, pickets and panels are available in a wide variety of designs. They can pretty much suit anyone's design aesthetic.
Wood vs Vinyl Fence – Durability
A properly built and maintained wood fence can remain on your property for years. If you use a very durable wood, then you can have a wooden fence almost indefinitely. Vinyl fences, though, offer longer life. This can offset the higher purchase cost because you won't have to replace them as often.
Maintenance
Left in their natural state, wooden fences will age gracefully over time, slowly changing in color and texture as the years go by. Most homeowners prefer regular painting and staining to renew these finishes as part of ongoing maintenance. Today's vinyl fences resist weather, sunlight and other environmental challenges to stay looking the same for decades. Only regular washing is needed to keep the appearance looking good.
Based on these qualifications, it's difficult to know which is better – a wood fence or a vinyl fence. The vinyl vs wood fence fact is that the decision is entirely up to you. We can help you make that decision. Give us a call at B.C. Fence today.